Maptionnaire is a SaaS platform which helps residents and urban planners make decisions for superior urban development. The tool's name combines the words "map" and "questionnaire", which self-explains what you can do with Maptionnaire: create map-based questionnaires. Both urban planners and researchers can greatly benefit from Maptionnaire's full-fledged survey capabilities and the ease of location-based communication on a map.
Maptionnaire has been proven easy to use among people of different ages and backgrounds. We have developed the service so that creating questionnaires doesn't require a background in GIS or in engineering. Maptionnaire's built-in analysis tool enables users to develop a deeper understanding of their questionnaire data and make visualizations of results even if one has never heard about coordinate reference systems.
The same can be said for questionnaire respondents as well. Maptionnaire has a user-friendly respondent interface which makes it very simple for people to answer surveys and leave their remarks.
The best way to learn whether Maptionnaire is a proper fit for your work is to try it out. Meanwhile, I will explain the procedure for getting started with creating map-based questionnaires in detail.
The main steps to get you started:
After you have signed up by setting up your account's details, you can enter the questionnaire editor and start creating a new questionnaire by clicking on the "Create new" button.
Second, simply add a name and description for the questionnaire.
Creating new pages to the questionnaire is very straight forward. After you click on the "+", add a name, and start adding content.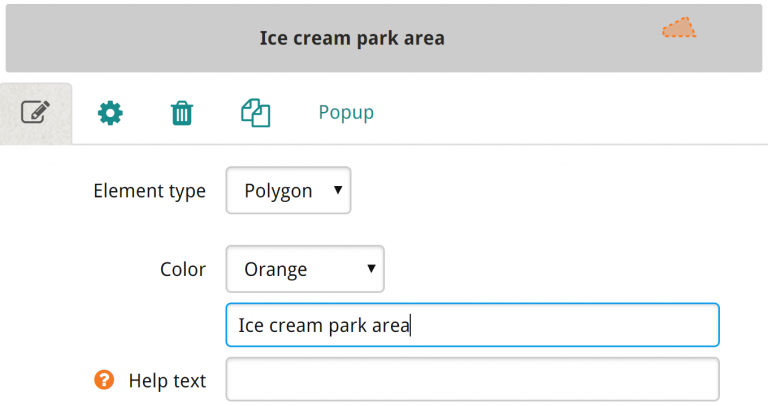 There's a wide variety of content types you can add, starting from simple multiple-choice and open questions to uploading shapefile or raster overlays. The feature that enables respondents able to easily mark specific points and areas or draw lines on a map makes Maptionnaire a leading tool in place-based work.
As the location on the map is a key point in any place-specific inquiries, you can freely decide which exact location in the world your survey focuses on. The questionnaire editor allows you to decide on the zoom level as well. You can also add information layers on the map to help respondents navigate around the area you are targeting.
The point of Maptionnaire is to enable questionnaire managers to make use of the map to receive geographically precise answers which accumulate as GIS data. So, you will most likely want to add questions that allow respondents to draw points, lines, and polygons on the map.
Once you have created such a question, you can couple it with a pop-up page to ask more information related to that specific map answer. For example, if the question is "What is your favorite place in Central Park?", once the respondent has marked their favorite place, you can ask them about why they chose that exact location.
Maptionnaire is very much about maps, but not only so. You can also create conventional survey questions inside your questionnaire. At the moment, you can create questionnaires in 26 languages and we are adding more in the future. If you'd like to see a questionnaire in practice, here is a demo which will you a glimpse of what you can do with Maptionnaire. Otherwise, don't hesitate to contact us if there is anything else on your mind.